Welcome to my subscription page! Needless to say, by subscribing you are doing a wonderful thing to help me continue to make music. As you probably know, there are lots of exciting projects on the way, including my work with Drake Music and those MiMu Gloves you've heard so much about. There'll be lots of new music in the next 12 months, like nothing else you've heard from me before. It's an exciting year for me, and I want you to be part of that. By subscribing you will be helping to support me, meaning more lovely new music comes out! It's a costly operation all this; I do it for the love, but as subscribers you make even more of it happen!

As well as the next 12 months of new stuff, you'll get to download everything I've ever done straight away. All the EXCUSES/EXCUSES singles, the various Winter Of '82 records, and the Dyskinetik electronica album, Go Figure. There's also a subscribers-only EP of demos, live bits, and other oddities. It includes an audio commentary too, if that sort of thing is your sort of thing...

As well as all that, by sustaining my art through subscribing, you will be helping to further my research into accessible technology. My work with Drake Music, Imogen Heap & the MiMu Gloves team has only just begun. It's fascinating work, but very time consuming. Drake Music and I sincerely believe that Imogen and the team have created what could be one of the most life-changing and groundbreaking tools for enabling disabled musicians. By supporting me through subscriptions, you will be allowing me to invest more time into this important research.

So yes, everything I do, and everything I've ever done. All for three of your finest English pounds per month. It makes a huge difference, I promise. Thanks for coming this far along the journey with me; the real fun starts... NOW!
Here's what you get:
All the new music I make

streaming instantly on your mobile device via the free Bandcamp app, and also available as a high-quality download.*

Access to subscriber-exclusive messages:

These back-catalog and subscriber-only releases:
The satisfaction of knowing you're supporting me in a sustainable way.
You're a subscriber
Thank you!
* Downloads are DRM-free and available in MP3, FLAC and
more
.
Kris Halpin
UK
Kris Halpin is a singer/songwriter and producer. Blending a world of influences, from his 80s childhood, rock and metal teens and experimenting with groundbreaking electronic instruments as an adult. Known mostly for playing Imogen Heap's groundbreaking MiMu Gloves, Kris' work happens at the intersection between music, technology & disability.
Latest Release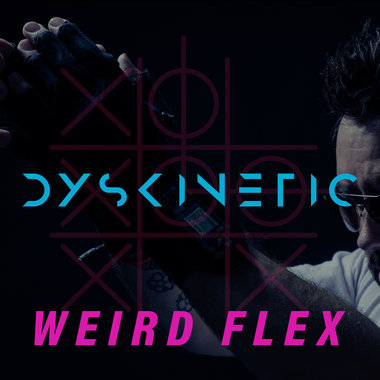 Weird Flex